Renting an Apartment? You Are Getting Way More Sleep Than Homeowners!
While the rent vs buy debate will always be there, homeownership has been declining for years now and there is a reason for it! A recent report by Apartment List reveals that renters might be more likely to lead a happier life than their homeowner peers.
Need extra sleep? Renting might be the key! Have you ever woken up in the morning and thought "Just 15 more minutes". Guess what? Renters have those 15 minutes! According to the study, renters on average sleep 84 more hours a year than homeowners. The average renter sleeps a healthy 8.4 hours per night and works 43 hours per week. Other things renters have more time for are:
Relaxing and Leisure. Additional 12 minutes per day add up to whopping 73 hours or 3 days a year.
Socializing and entertainment. Extra 5 minutes per day or an extra 30 hours a year to catch up with your friends!
Grooming and personal care. 6 hours a year to look refreshed and polished.
Got no time for chores? Rent! Guess what renters spend less time on. You are right, they spend an average of 23 fewer minutes per day on household activities, including yard work, housework, and maintenance. Over the course of a year, this adds up to three and a half additional 40-hour work weeks that homeowners spend taking care of their homes. If you are curious to know exactly how much time you are saving on boring chores, here is a drill-down: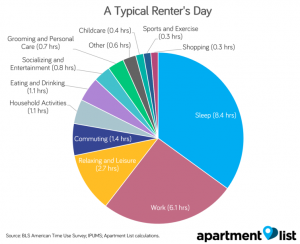 Lawn and Yard Care. A lot of renters don't have backyards and the ones that do rely on their landlord to maintain the property, saving 56 minutes a week.
Maintenance and Repairs. Since most landlords take care of repairs, it saves renters 32 minutes a week that can be spent relaxing and hanging out with friends.
Most rental units don't have attics, basements and guest rooms, and are usually smaller and faster to clean. This gives you extra 23 minutes a week to spend with the loved ones instead of wiping off spider web in a room you don't even use.
Food Prep. The report doesn't explicitly explain why but renters save 21 minutes a week on cooking. We can only assume this could be attributed to their vibrant social life and all the extra time spent on socializing and entertainment.
Of course, it all boils down to priorities and personal preferences, but when it comes to day-to-day life and simple things that make our day, renting seems to be winning the debate. At the end of the day, we all of have the same 24 hours in a day, and how we spend them determines our overall level of happiness. To learn more, check out the full report.