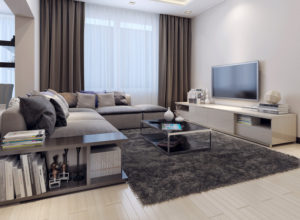 About 36 million Americans move every year into new apartment complexes, homes, and rental spaces. This also includes students in college, and we all know that most often than not, a student's first apartment isn't always the largest. So, to get over some problems that small student housing can bring, here are some great apartment hacks to consider.
Get some coat hooks
Coat hooks can be especially helpful, whether it is a line of them or a couple installed here and there. You can do a lot with these little guys — hang towels, keys, even mops! These little hooks will utilize your wall space to its fullest potential, without looking cluttered or messy.
Invest in furniture that works in more than one way
Some ideas include repurposing dressers into bathroom vanities, having ottomans in the living room that can offer a little extra storage and a couch that turns into a pull-out bed for last-minute guests. A simple upgrade in a few pieces of furniture will make the smallest of rental apartments feel large and homey.
Toss those boxes
Does your pantry feel cluttered? Take some of your food products out from their boxes and put them into air tight storage containers. These containers are able to be stacked vertically, and you'll be able to see exactly how much you have left. This works great for cookies, cereals, dry fruits like apples or clementines, and/or granola bars.
Look under the stairs
Have a loft? Use the staircase to your advantage and create a little nook. You can use this for storage, put a desk there for a quite place to study, or even make a reading area. You don't need a lot of space to make an area cozy, just put in a beanbag chair and some pillows and you'll be good to go.
Portable ironing board
No one has room for a clumsy ironing board when they are living in small off-campus housing! So it is time to get a little creative — all you need to do is cut a thin quilt into a rectangle and put magnets on its corners. Simply put the quilt on your dryer and washer and boom, a portable ironing board for when you need to look fancy but want to be lazy.
Keep your eyes peeled for our next blog talking about more small apartment complex tips and tricks!