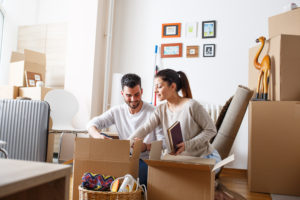 Almost 36 million Americans move each and every year, and it is safe to say that a huge amount of these movers are moving out of their parent's house to their own place for the first time. While moving out on your own may be exciting, it can be pretty stressful to get all the details in order. Visiting apartment complexes, looking at different rental spaces, and making the transition from student housing can be daunting. But don't worry, we've created a simple guide for all first-time movers to make moving day stress free!
Figure out your finances
It is safe to say that living at home has given you a pretty good financial safety net. But moving out on your own means that you need to be prepared for unexpected finances, have a good hold on your budget, and put a good financial plan in place. The first few months of living on your own may come to be quite a shock, and it is always a good idea to have some extra savings to cover unforeseen costs such as extra cleaning supplies and your security deposit. Stuck figuring out a budget? Write down all of your expenses for the month including rent, utilities, groceries, gas, and phone bill, and then what is left over will give you a good idea of your disposable income.
Practice your transition
If you aren't used to doing chores and taking care of a house, make sure to practice before you move to make the transition even easier. So do your chores without complaining, stick to your budget for at least two months, and practice making some meals so you won't have to only eat ramen noodles.
Have a good chat with your landlord
You don't want to have any surprises when you head to your new place, so make sure to discuss with your landlord everything and anything before moving day. This includes what apartment amenities are included in the rent, if you can have pets, where you can park your car, and if they will stop by unexpectedly during the time you are staying there. Having a good relationship with your landlord will be especially beneficial in the long run.
Moving out and need help choosing rental spaces? Look no further than Apartment Genie, your one stop shop for all housing rentals in Reno NV!