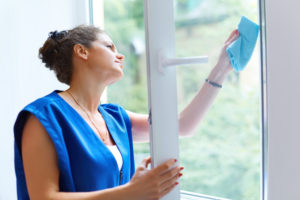 Springtime is here, and you know what that means — spring cleaning! Even though you may not be one of the 14.8% of people who are moving because they wanted a better home or apartment complex, doesn't mean you can't fake a new home with our fun spring cleaning tips. No matter the size of your housing rentals, these tips will make you feel like you have a brand new home!
Clean your upholstery one fabric at a time
Instead of cleaning one room at a time, it will be easier and more efficient if you clean your upholstery and furnishings by their type of fabric. For example, you can clean all your suede furniture first, then group your leather, carpet, and corduroy next. You'll be able to clear all of winter's dirt and grime off your furniture, you won't have to switch between numerous cleaners or cleaning techniques doing so.
Don't forget about your doormat
Your doormat is the first thing guests will notice about your home, so make sure it is clean! Spot clean it, beat it outside with a broom, or even buy a new one — anything to give off the cleanest, freshest vibe you can!
Polish your floors in one step
Does the idea of waxing your kitchen floors give you a headache? No need to fret, because there are plenty of wash and wax one-step options available for those who only want to wash and go. Giving your floors a polish at the start of the warm season will go a long way to protect your hardwoods against those summer heels and sandals. All high end rental units do this, and it is a great way to immediately make your place more luxe.
Look up
When was the last time you dusted your fan? If you can't answer that question, pull out your duster, ASAP! No one wants dust swirling around their freshly cleaned room after all! This also goes for your light fixtures, even the ones you rarely use. A soapy cloth and a duster are all you need.
Apartment living can be quite dirty sometimes. Keep an eye out for our next spring cleaning blog to keep your high end rental units in tip top shape.